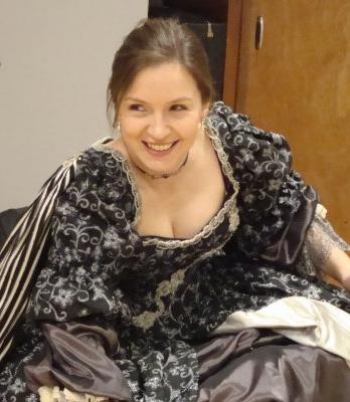 Helen Cassano was born in 1979 in London. She grew up in Madrid and started learning the piano at the age of 5. In 1999 she returned to her birthplace, to read music at Royal Holloway College, University of London. Her time at Royal Holloway was full of choral music and was truly life-changing. In 2002, Helen moved to Belgium to further her studies at the Royal Conservatoires in Brussels and The Hague, where she obtained Master's degrees in Singing and Chamber Music, as well as a teaching certificate.
Helen's professional career as a choral and ensemble singer started in 2004, with a production of Cavalli's Eliogabalo at La Monnaie Opera in Brussels and the Innsbrucker Festwochen, in which she sang in the chamber choir conducted by René Jacobs. In the same year, she joined the Chœur de Chambre de Namur and the Flemish Radio Choir, and became a founding member of Vox Luminis. She subsequently joined Studium Chorale Maastricht, Psallentes, Currende, Arsys-Bourgogne, the Laudantes Consort and BachPlus. Helen has sung most major choral works and has performed extensively in Belgium and throughout Europe. Highlights of her career have been a European tour with Monteverdi's Orfeo in 2005-06 with the Chœur de Chambre de Namur, in which she sang the roles of Ninfa and Speranza, Vox Luminis's first tour of the US East coast in 2014 and two televised concerts at the Royal Palace in Brussels in 2015.
Amongst her more than 20 albums, particular achievements have been the recordings of Carissimi's Vanitas Vanitatum (2005) and Pachelbel's sacred works (2007) with the Chœur de Chambre de Namur and Jean Tubéry, and the recordings of Scarlatti's 10-voice Stabat Mater (2007), Scheidt motets (2010) and the Funeral Sentences by Purcell and Morley (2012) with Vox Luminis. Helen's best-selling album is undoubtedly Vox Luminis's recording of the Musikalische Exequien by Heinrich Schütz, which received many awards, including a 'Diapason d'Or', the 'International Classical Music Award' and Gramophone Magazine's prestigious award for 'Best recording of the year 2011'.
Helen started conducting in the year 2000, when she followed several training courses with Nuria Fernández, Larissa Fedorenko and Óscar Gerschensohn in Madrid. She also conducted many vocal and instrumental ensembles at Royal Holloway, notably the Music Department's Symphonic Orchestra and Chorus in a performance of Borodin's Polovtsian Dances in 2001. In 2007 Helen decided to found her own choir, the Brussels Chamber Choir, within the Brussels Conservatoire. She then resumed her conducting studies at the Lemmensinstituut in Leuven with Erik Van Nevel, obtaining a Master's degree in Choral Conducting in 2009. Thanks to the BCC, Helen has been privileged enough to conduct on a regular basis in the Brussels Cathedral, to perform masterworks such as the Requiems by Duruflé and Howells, and to work with composers such as Eric Whitacre and Bob Chilcott. A milestone to mark 10 years of the BCC was the thoroughly-researched recording of the choir's first professional album—Made in Belgium: New Belgian Choral Music, released in October 2017.
Alongside conducting the BCC, Helen is mainly active today as a singer with the Flemish Radio Choir, conducted by Bart Van Reyn, with the Hildebrandt Consort, conducted by Wouter Dekoninck, and with the Huelgas Ensemble, conducted by Paul Van Nevel. Helen lives in Ghent with her husband Jan and their three children, Michael, Emma and Oliver. She became a Belgian citizen in 2017.